System Information Development Kit
Description
The CPUID System Information Development Kit offers a set of functions to gather in-depth information for the core components of a PC : processor, graphics card, mainboard (chipset, BIOS) and memory.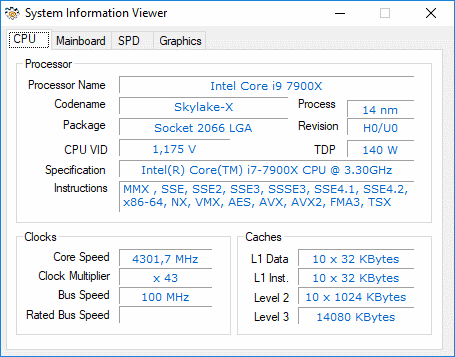 Reported Information
Processors (CPUs)
Processor topology : number of processors, cores per processor, threads per core.
Processor name, codename, process, TDP, package, stepping, instructions sets.
Cache levels description.
Individual core speed, BCLK.
Graphics cards (GPUs)
GPU name, codename, process.
Graphics card maker.
Memory type and size.
GPU and memory clock speed.
Mainboard
Manufacturer and model.
Chipset name and revision (southbridge).
BIOS brand, version and date.
Memory
Type, size, number of channels.
Frequency, timings (CL, tRCD, tRP, tRAS, tRFC, CR).
Memory module specification (SPD) : size, manufacturer, part number, maximum speed and bandwidht, standard (JEDEC) and extended timing profiles (EPP, XMP, AMP).
Compatibility
The System Information Development Kit is provided as a set Windows dynamic-linked libraries (DLLs) and a set of interfaces for the following programming languages :
Microsoft® Visual C++™
Microsoft® Visual C#™ (.NET)
Microsoft® Visual Basic™ (.NET)