System Information Development Kit
The System Information Development Kit offers a set of functions that gathers in-deep information about the core components of
a PC : CPU, chipset, memory.
Processors topology (number of processors, cores per processor, threads per core).
CPU name and number, codename, process, package, stepping, supported instructions sets, cache levels.
Real time measurement of each core's internal frequency, clock multiplier, bus speed and rated FSB.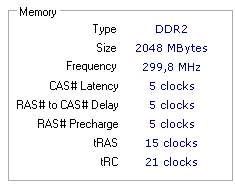 Chipset northbridge and southbridge name.
Mainboard vendor and model.
BIOS vendor, version and release date.
Memory type and size.
Real time measurement of memory frequency and key timings: CL, tRCD, tRP, tRAS, tRC, CR.
Memory module specification (SPD) : size, manufacturer, maximum speed and bandwith (PC-xxxx), standard timings profiles and extended profiles.
Supported Hardwares
Processors
Intel® Pentium™, Pentium™ MMX, Pentium™ Pro, Pentium™ II, Pentium™ !!!, Pentium™ !!!-M, Pentium™ 4, Pentium™ 4-M, Pentium™ M, Pentium™ D, Pentium™ XE, Pentium™ Dual Core, Core™ Solo, Core™ Duo, Core™ 2 Duo, Core™ 2 Quad, Core™ 2 Extreme, Celeron™ (P2/P3/P4/PM/CL) and Xeon™ (P2/P3/P4/C2D/C2Q) ; Core™ i3, Core™ i5, Core™ i7, Core™ i7 Extreme ; Atom™ ; Itanium™, Itanium™ 2 ;
AMD® Am5x86, K5™, Geode LX, K6™, K6™-2, K6™-III, K6™-2+, K6™-III+, Athlon™ (4, XP, MP), Duron™, Sempron™ (K7/K8), Athlon™ 64, Athlon™ 64 X2, Turion™, Opteron™, Athlon™ FX, Phenom™, Phenom™ II, Athlon™ II ;
VIA® C3™ (Samuel, Samuel2, Ezra, Ezra-T, Nehemiah), C7™, C7™-M, Nano™ ;
Transmeta® Crusoe™ TM3200, TM5400, TM5500, TM5600, TM5800 ;
Chipsets
Intel® i430TX, i440LX, i440FX, i440BX/ZX, i810/E, i815/E/EP/EM, i840, i845, i845E, i845G, i850/E, i845PE/GE, E7205, E7500, E7520, i852, i855, i865P/PE/G, i875P, i915P/G, i915PM/GM, i925X/XE, i945P/PL/G/GZ, i945PM/GM/GT, i955X/XE, P965, Q965, G965, GL960/GM965/PM965, i975X, P35, G33, G31, Q35, Q33, X38, X48, P45, P55, X58, P55, H55 ;
VIA® Apollo VP3, Apollo Pro, Apollo Pro +, Apollo Pro 266, KX133, KT133(&A), KT266(&A), KT400(&A), KT600, P4X266(&A), PT880, PT880 Pro, K8T800, K8T890, K8T900, P4M800CE, P4M890, P4M900, CX700/VX700 ;
NVIDIA® nForce, nForce2, nForce3, nForce4, nForce4 SLI Intel Edition, GeForce 6100/6150 (nForce 410/430), nForce 520/550/560/570/590, GeForce 7050/7100/7150, 650i, 680i, 740i, 750a/780a, 750i, 780i, 790i ;
ATi® RS350, RS400, RS480/RX480, RS482, RD580/RX580, RS600/RD600, RS690, RS700, RD790 ;
SiS® 645, 645DX, 648, 648FX, 649, 655FX, 655TX, 656, 662, 735, 756, 761GX, 760, 760GX, 755, 755FX, 741, 741GX, 671/FX/DX/MX ;
AMD® AM-751, AM-761, AM-762 (760MP), 780G, 790GX, 890GX ;
Memory Technologies
SDR, DDR, DDR2, FB-DDR2, DDR3, RDRAM (Rambus®) ;
EPP and XMP extended profiles ;
Compatibility
The System Information Development Kit is provided as a Windows dynamic-linked library (dll) and a set of interfaces for the following programming languages:

Microsoft® Visual Basic™
Microsoft® Visual C#™
Microsoft® Visual C++™
Borland® Delphi™
Licensing & Pricing
The price for the System Information Development Kit license starts at € 1199.-

Please check out our licenses and pricing table for a complete description of our offer and our updates policies, and ask for an 20-days evaluation version.

Please consult the Commercial Use License Agreement for the complete licensing conditions.